Lifeline address contributing factors behind adult and child obesity…Fast food. Super-sized meals and drinks. Video games. Cutbacks in physical education. These and other social forces are contributing to an astounding rise in overweight children. The obesity epidemic poses serious health problems for children including cardiovascular disease, mental health problems, bone and joint disorders, and diabetes. According to the Centers for Disease Control and Prevention and the latest data from the National Health and Nutrition Examination Survey (NHANES):
Approximately 17% (or 12.5 million) of children and adolescents aged 2—19 years are obese
Since 1980, obesity prevalence among children and adolescents has almost tripled
There are significant racial and ethnic disparities in obesity prevalence among U.S. children and adolescents
1 of 7 low-income, preschool-aged children is obese
Obese children are more likely to have high blood pressure, high cholesterol, and type 2 diabetes — the major risk factors for cardiovascular disease.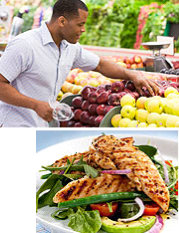 The LifeLine's "Childhood Obesity Initiative" will:
Address contributing factors behind the rise in childhood obesity
Assess family issues that may cause weight gain in children
Implement evidence-based dietary approaches to treat obesity and underlying medical conditions
Provide ongoing patient education support
Reducing childhood obesity is vital to the future of our nation. We are currently developing community intervention plans for 2014 that specifically target lower income areas where childhood obesity is most prevalent. These interventions will comprise live counseling and education by healthcare providers in schools, community health fairs, patient nutrition guides, portion control tools, and mobile "apps" for tracking daily diet and exercise.
HELP US MAKE A DIFFERENCE
Adult Obesity
More than 60% of the U.S. adult population is classified as either overweight or obese. Higher body weight is associated with an increased risk of hypertension, hyperlipidemia, stroke, CAD, insulin resistance, and type 2 diabetes mellitus. Fortunately, even moderate weight loss has been shown to decrease the severity of these comorbidities, and may also decrease mortality. There are several behavioral and pharmacological strategies available to manage overweight and obesity effectively. These include dietary therapy, physical activity, behavioral techniques, and pharmacotherapy, when appropriate. Reduction of initial body weight by only 5% to 10% has been shown to result in significant cardiovascular risk factor reduction, as well as a variety of other health benefits.
A major problem in our communities is poor adherence by patients to diet, exercise, and recommended medications. Primary care physicians have an opportunity at every patient visit to counsel and assist patients in losing weight.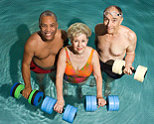 The Lifeline's initiative for addressing adult obesity includes:
Novel patient education interventions with electronic reminders
Progress logs
Direct physician-to-patient educational tools
Nutritional support
Social support networks
Supervised exercise programs
Your donation will help to make these programs possible. Thank you for your support.